Palms for Sale
"I have entirely stopped selling palms now. Perhaps one day I will offer a particular species for sale, but that is for the longer term."
I wrote the above after I'd moved north in late 2011.
A decade later my view as of late 2021 became this: that day was likely to arrive in 2022. I wished to move on to offer Phoenix dactylifera, the Middle Eastern Date Palm of commerce. They grow quite well in the warmer coastal parts of northern Aotearoa. Moreover, I've lived with a big, old one during the 24 years I was on South Kaipara Head. For evidence of this, click on "About Us" at the top of any page, and then on "Nestlebrae History".
I am still quite interested in palms generally, and I have lots of them on my current Far North property, but I've made no attempt to match the nearly 170 varieties and location types that I had at South Kaipara Head by about 2005.
I do see many things still to admire about the much smaller number of different palms that I have in the Far North, but I am not a keen collector any more. One aspect I can see around myself in the Far North is that I brought clusters of some that were favourites of mine while collecting on South Kaipara Head, rather than so many single different specimens .
And, here's what I saw just outside my office window less than a meter to my left when I first worked on updating this page in 2021. Palms!
*******************************************************************************************************************
So here I offer for the first time from Ness Road, plants of Phoenix dactylifera.
Phoenix dactylifera
The date palm of commerce
I'll say it clearly from the start: you will not get ripe dates of good quality. You may get fruit set, but you won't mature ripened fruit. The Californians growing them in the inland deserts in the past would have said they require "a hundred days at a hundred degrees", and we are talking dry desert heat, what's more, (in Fahrenheit numbers of course).
What you can get are somewhat blue-grey tonings in their colours, resilience near the sea and beach, and slow but steady growth for a century or more to become quite tall palms.
Again, as above, I'd point towards the evidence of my own from our 24 years on South Kaipara Head. It's very clear evidence! And you can find some of that evidence in "Nestlebrae history" above. There are other old ones growing here and there in the North and in Auckland. One biggish one was in the grounds of the Tauranga Bay holiday park, just above the beach, and amidst the tent section. One year when I went there to take a break by myself in a small beach house I had access to, the long sight line along the beach revealed that the date palm had gone. The owner at that particular stage had got sick of campers tying tents to the trunk, banging nails in to hold camping gear in place, and similar desecrations of what was "just another palm thing" to the people involved.
So, I still like palms, and offering date plants for sale fits to a rather limited extent with my emphasis on less common, usually warm climate, fruit.
Prices are from $40 for a 2 years old plant, and more for larger ones. I don't have lots of larger ones yet, but think around $100 approximately for several that I do have.
Photos of several in Auckland 20 years ago, of the one at Tauranga Bay, and perhaps others, are no longer in my photo files. So here's a photogenic cluster from a quality growing region. Date palms can cluster, so there may have been some management for production or display purposes. I haven't seen any clustering in my fairly limited exposure to date palms in New Zealand, and I don't remember seeing them when I toured  Arizona State University's research orchard devoted to date palms back in 2000.  A number of different Phoenix palm species certainly do cluster, so be aware of the possibility.
[click on small photos to increase their size.]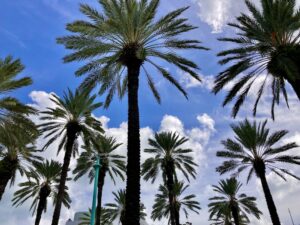 ---