Cutting-grown plants became available again from the middle of January 2022. New listings will appear and change in this section of the website as plants become available, or are sold.
In time many different new selections will be offered, but only a few plants of each. I am not a wholesaler supplying bulk orders.
The price for Nestlebrae Exotics plants is $35 each, or 3 plants for $90
[They can be 3 different flowers, or all the same if I have enough plants of that chosen sort. It's your choice from what I have listed on this website.]
Yes, I can send plants to you.
I use Aramex Couriers. The plants must go into a box. It can hold up to three plants [that is, hibiscus plants]. Price indication: $10 for a box, and the courier charge to deliver a box to Auckland, for example, is a bit more than $20 approximately.
Also, I usually come to Auckland from Kerikeri once a month. I can often bring plants with me for you- if you can meet me in Grey Lynn in central Auckland where I stay. Then you don't need a box for the plants, and no courier fees, so that there is only a single $10 charge to you.
You can also pick them up directly from me at my home, but you must make an arrangement with me beforehand. Click on "Contact" near the top right side of any of my website pages to send me a message. To see where I live, click on the map besides "Where I am" at the foot of any page on the website.
*I am trialling many plants outdoors now, and I have other promising ones still indoors. In 2008 I started my experimentation with new seeds from good breeders living overseas. My aim has been to choose the better ones of my new flowers, and eventually offer them for sale, accompanied by a brief description and a photo.
*Some of my new plants will not be given a longer trial. There will be nothing wrong with them as hibiscus flowers, but if they overlap too much with the look of the flowers on the plants that I am already growing and keeping, then I will sell them.
Space is limited, and choices have to be made!
Each such plant will be unique. If you buy one, then you can call it after anything or anybody you want to: a friend; your wife; Mum; your aunt who gardens; other people who matter in your life, male or female; whatever!  $60 each.
* I am looking to choose ones with these characteristics:
-reasonably vigorous;
-the flowers present themselves well on the plant- i.e. they don't hang down so that you can't see them properly.
Here are some of my plants that had been in the ground for several years when I took the pictures. Flowering was definitely strengthening as the plants put on some bulk.
This is 'Jane Verbitsky'. (There are several entries about her, and the others, in the Flower of the Month section of this website.)
'Miku Abe' was named after a very good Japanese wwoofer we had on South Kaipara Head at an earlier stage of Nestlebrae Exotics.
'Strawberries and Chocolate' is starting to look as active as a Whittakers chocolate factory!
A Summer picture of 'John Prince', across from my kitchen window.
Here's a photo of the human version of John Prince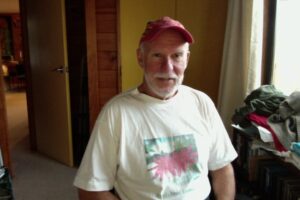 And here's a photo of an art work by Kerikeri artist Valerie Hunton which first went public at her 80th birthday show at Kaan Zamaan gallery in Kerikeri in early 2016. It was painted after I'd brought her many new hibiscus flowers to focus on. She called it 'Portrait of John Prince'.
On the other hand…
And here's an example of one which will never come to anything in our climate. Very big flowers (over 10inches/25cm in diameter) are usually too floppy, in my experience, They don't have the inherent strength in the petals to look any good. When affected by stormy and windy weather it's clear they just won't do. This one has basic good looks, but it's not fit to be a garden subject. Others have never had the strength, even under plastic, to present all the petals well. They can be even a lot worse than this large and distinctive red outdoors. I'm not releasing ones like this. It's actually the flower in front of 'Marilyn' at the very start of this website! It turns out that I was just very lucky that day to find a perfect flower in front of the garden statue.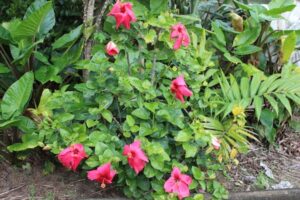 Exclusive Nestlebrae Hibiscus for Sale
Amigo's #1 Friend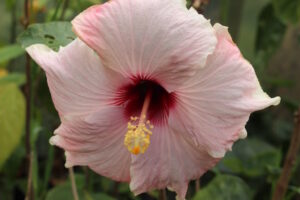 Amigo was the name of the best cat I ever owned. A sleek black gentleman who lived his own life, roamed a lot, yet was still original, personality plus, and very friendly (on his terms). An outdoorsman. I didn't manage to bring his plant up north with me. I do have two other plants from seeds in the same pod. This one is pretty good, especially if you like things like 'Smoky Mountain', which was a commercial release in Aotearoa some years ago. It's like a paler, less assertive, version of 'Amigo'. But still very, very nice. [out of stock]
---
Blue Blush
One of the very first flowers I raised from imported seeds from good breeders overseas. I was hooked by seeing these new flowers. Perhaps not as striking as many later flowers, but nice in it's way. It has a slight blue cast to the basic red colour when it first opens. After I'd moved up north I planted various plants I'd brought up with me. w
About three years after moving here I had real pleasure on rediscovering 'Blue Blush' (2nd photo) with a new flower in a new location. [out of stock]
---
Blue Minnie
A genuine miniature with both a small bush and a miniature simple flower (3-4 inches across). Some years ago I had both this little grey-blue flower and another small flower which was a double and pink. There was also a little dog I called "Minnie", so that's how the flowers got their names. One photo is on a shrub with a leaf that brings out the grey-blue tones.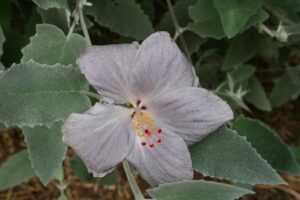 [out of stock]
---
Christmas Eve 2011
I moved here in October 2011. The first ever flower on this bush came out, to my delight, on … well, you look at the name I gave it! Has continued to please me very much, and it grows outside one of the bedroom windows at my place. White flowers are not as common in hibiscus as many people seem to expect. This is a lovely example, and note that it's not quite completely white.  $35
---
Copper Iguana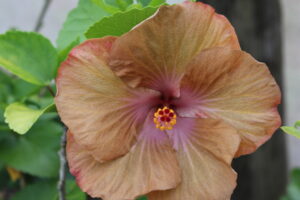 The parents were 'Copper King' crossed (in America) with 'Iguana'. Do that, and you'll get something like this flower. 'Copper Iguana' has a blurry pink centre. Some of the other results of this cross were variously and more strongly coloured in the throat and in the markings. This one blends in more sedately. Small-medium flower, about 15cm/6inches across.
[out of stock]
---
Fiery Garter
A medium sized flower (15cm/6inches) that is yellow on the rim, moving through orange into reddish tones more centrally. For me, this is an old one in terms of my engagement with hibiscus while I still lived on South Kaipara Head. Its first flowering was right back in 2009, and it was probably the first bright yellow-red flower I'd produced from imported seeds. The parental cross was 'Mini Skirt' x 'Wedding Day', so I envisaged a rather sassy bride with a 'Fiery Garter'.  [out of stock]
---
Marian's Return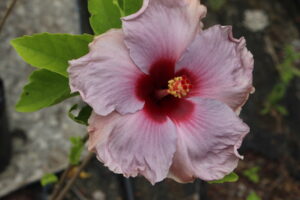 Our older daughter came back after her big trip to South America and Canada just as this was flowering for the first time. Rather complex colour scheme when closely studied. Big medium sized flower. Strong impact. [out of stock]
---
Mustard Greens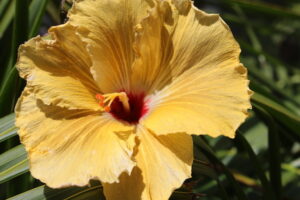 A smallish-medium sized, greenish edged, yellow-brown (i.e. a sort of mustard colour with greenish edging). Small red throat. It has been quite floriferous in a bed in my front lawn. Unusually coloured- definitely not your traditional NZ hibiscus. Lots of people I've showed around Nestlebrae North have rather liked it. Definitely different, but not in a challenging way. $35
---
Nana Moessner
A gorgeous large and vibrant mid-deep red with a darker centre. Light gold dusting along the edge of many petals. These petals are often large, and in the range of 22cm/8 1/2inches. Nana was a German wwoofer who was with us for a while, together with her husband Jan, at South Kaipara Head. They were excellent people whose company we both enjoyed. $35
---
Ness Road #2
This is the result of sprouting another seed from the same seed capsule which gave me' Ness Road #1′.  In time 'Ness Road #1' was renamed 'John Prince'. This flower, 'Ness Road #2' is a fine flower in its own right. It's not as intense as 'John Prince'. The main colour on the face of the flower is a nice mild brown/tan colour. Side by side, you can see the relationship between the two flowers. It's a good standard size also. $35
---
Pale Blue Flash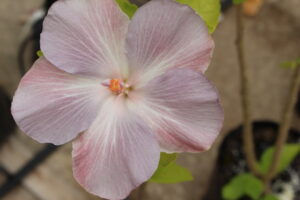 Very pleasant soft pale blue-purple and mauve colours, veining and flower centre being white. A small-medium flower in size. Part of the parentage is cv. 'Electric Blue', and my name for it draws on this fact. [out of stock]
---
Pink Minnie
A small flower, but not a true miniature. Also, it's a double, and on a normal sized bush (so far) at my place. (compare 'Blue Minnie' above)  [out of stock]
---
Premonition of Autumn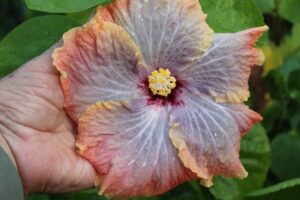 A good medium sized flower with yellow, orange, pink-red, grey with green hints, purple, and a burgundy centre. This first flowered for me as autumn was nearly happening, so the subdued colours fitted my mood. $35
---
Rosemary's Favorite
She says it might be succeeded now with all the new selections I've made, but this was her favorite at the time we left South Kaipara Head in late 2011. Flowering since 2015 for me at Waipapa. [out of stock]
---
Run Gabriel, Run!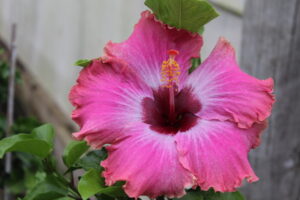 This is a cross of 'Gabriel' with 'Rumrunner', a fact which led me to invent this name for it. It has a soft orange rim which evolves into a stronger pink as you go towards the centre. Then purple tones follow, and they lead into a very pale blue, ending centrally with a very strong and deep burgundy eye. Good parents contribute to this result. $35
---
Second Letterbox Pink
A second plain pink and white flower located near my Ness Road letterbox. $35
---
Shadows on the Moon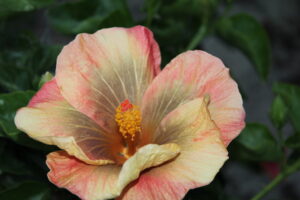 The stronger colours of the first day fade, and then for several more days it has "shadows" on the normal (paler) face of the "moon". About 17.5cm/7inches- i.e. a medium sized flower. It is a nice, relatively uncluttered flower given the range of tonings. Reddish in the central throat. And it bears flowers early and well for me.  $35
---
Towering Inferno
This was the best of the strong yellow and red flowers from my early years of importing hibiscus seeds. It also grew very tall under plastic while still in a bag. The name came naturally then. $35
---
Violet Love Letters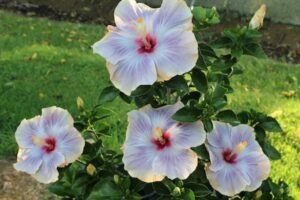 Gorgeous violet flower with warm red brick edges for a few hours, edging fading quickly to a yellow-straw, pale brown, band. The name really fitted the flower, for me. The parent flowers were Moorea Violet Moon x M. Love Letter. Further, I had strong memories from being a small boy and seeing some mail that my mother still possessed from her oldest brother who died in France in the First World War. Colours on some of the mementoes reminded me of this. [out of stock] Yes, it's out of stock, but if I can find a cutting grown one, and there is a chance, then I'll get it back for myself, and for sale, as soon as I can. It was lovely.
---
A reminder (see the top of this page): all of the exclusive Nestlebrae hibiscus listed on this page are $35 each, or 3 for $90. I often won't have three of a particular flower. Remember, I only deal in small numbers of each.
---